Blog > Why luxury vinyl flooring is ideal for pet-friendly homes
Why luxury vinyl flooring is ideal for pet-friendly homes
Tuesday, November 23, 2021, 3:44 PM
---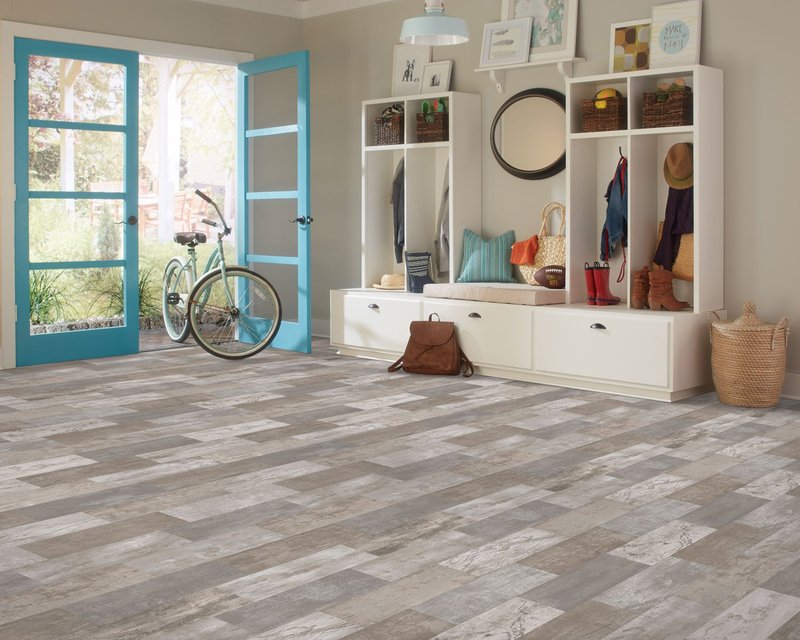 We love them, but pets can be pretty tough on floors. They have accidents, drool, shed, and leave food crumbs all over. While dog nails can snag and dent, cats often think everything is their scratching post, and both can wear out the surfaces.

That means you need a floor that's durable, waterproof, and easy to clean. Of course, it also has to look good for humans. If it's affordable, all the better!

Luxury vinyl flooring (LVF) is a hard-wearing material constructed for some of the busiest homes, but there's one benefit you may not have considered: It's warm, flexible, and resilient. Senior and arthritic pets, especially, will appreciate that at naptime.
Ultra durability
All vinyl is strong, but LVF is five times thicker than the original product with a top transparent, melamine wear layer that protects the floor from scratches and scuffs. The vinyl itself should measure 8 mm to 12 mm in thickness; the wear layer has a separate measurement, and, for homes with pets, it should be the most robust 20 mils.

On top of it, all is a urethane finish that adds extra strength and shine. LVF is also completely waterproof, something that's good if you have animals who love to topple their water dishes or overturn full glasses.
Easy to clean
All it takes is daily sweeping and weekly mopping with a manufacturer-approved cleaner. Avoid wax, shine-promoting cleaners, as they can damage the finish and dull the floor.
Visuals to appeal to humans
This product offers true-to-life wood, stone, and tile images, all taken with high-definition photography, embossing, and micro beveling to add depth, design, and textured looks. They are incredibly realistic, but you won't pay nearly the same price as you would for the "real deal."

As another aesthetic, the vinyl can be cut into strips to mimic hardwood, called luxury vinyl plank or LVP, or tile-sized squares that can be used with or without grout, called luxury vinyl tile or LVT.
We invite you to visit us for your luxury vinyl flooring
Browse our luxury vinyl flooring samples from some of the most recognized brands, including COREtec, Pergo Extreme, Mohawk, and more. You'll love what you see and will also get a free quote. The Express Hardwood Flooring showroom is in Kelowna, BC, convenient to West Kelowna, South Kelowna, East Kelowna, and Westbank.